Sorry, we regret to inform that all available slots for AY1819 Term 1 have been filled.
You could try visiting our Walk-in Clinic at Li Ka Shing Library. For details, click on the 'Walk-in Clinic' tab above.
Walk in to have a quick chat with specially trained student coaches about your writing and presentation. These coaches will help you to overcome the challenges of structuring and delivering your class assignments.
Venue:
Li Ka Shing Library, Project Room 2-4 (Turn right after entering via main entrance of Library)
Opening Hours: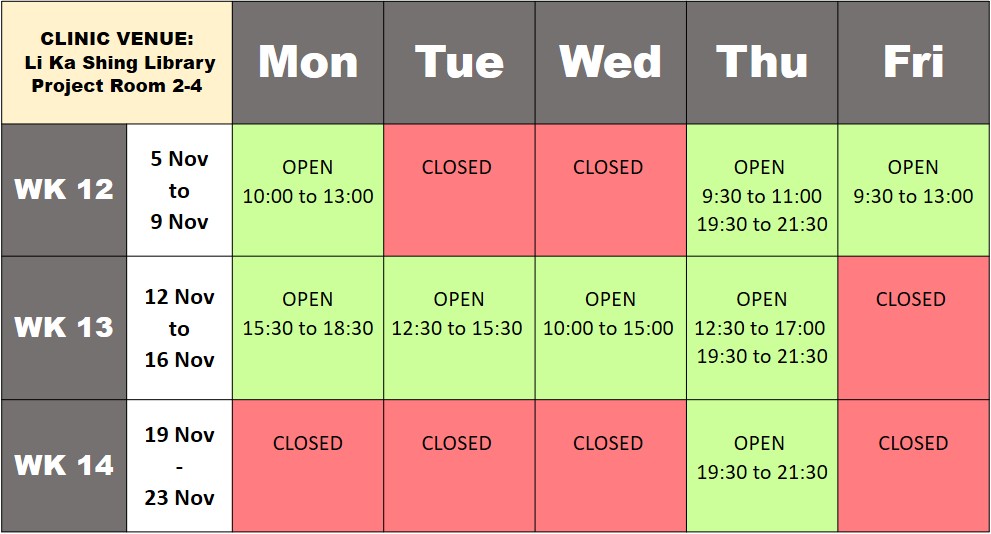 Kindly take note that:
Consultations are free of charge.
Each walk-in consultation session is limited to 20 minutes at most.
You should come in with all the following so that the coach has adequate background information of your case:

(1) Your draft outline (in bullet point form)
(2) The question paper you are answering
(3) The marking criteria
Walk-in sessions are suitable for going through brief outlines only. If you need help with a full draft, please register for a 1:1 consultation session (See Consultation Sessions Tab) so that coaches can have sufficient time to properly review your draft before meeting up with you.
Coaches reserve the right to decline walk-in consultations if they realise that they are not in a position to advise you correctly. In such cases, you are advised to approach your course instructors for advice instead.
Communication Coaches for AY1819 Term 1
Last updated on 12 Nov 2018 .